Rogers pedals her campaign through Pinal
Original article by BRIAN WRIGHT
MARICOPA — Wendy Rogers loves flying planes, but she enjoys riding a bicycle just as much, especially when she's talking with voters.
Rogers, a retired lieutenant colonel in the Air Force, is running for an open seat in Congressional District 1, which includes Maricopa, Casa Grande, much of Pinal County, Flagstaff and most of eastern and northern Arizona. She's taken to riding her bicycle around neighborhoods across the massive district to meet with potential voters.

Rogers had already done some bicycle runs through Sedona before heading to Maricopa.
"This is the fun part for me," she said as she took her bicycle out of the back of a pickup truck at Maricopa Meadows Park on Tuesday morning.
Rogers is running in a crowded Republican primary field that pits her against Pinal County Sheriff Paul Babeu, Eagar businessman Gary Kiehne, Arizona House Speaker David Gowan, former Arizona Secretary of State Ken Bennett, Navajo businessman Shawn Redd and state Rep. Carlyle Begay, also a Navajo. Three Democrats also are in the race.
The CD1 race has been pegged by pundits and political-tracking websites as one of the most competitive congressional races in the nation.
Securing the border, fighting radical Islamic terrorism, protecting Second Amendment rights and stopping federal overreach are some of Rogers' biggest priorities if elected to Congress.
Rogers, 61, lives in Tempe but also has a home in Flagstaff.
Though she ran unsuccessfully for a Congressional District 9 seat in 2012 (finishing second in the primary) and 2014 (lost in the general election), Rogers said riding a bicycle around the neighborhood and going door-to-door is the best way to communicate with voters.
"I like being outside. I like getting exercise," she said. "I enjoy meeting families; it's precious … The voter is going to give you the unvarnished truth about how he or she feels."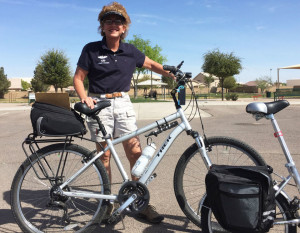 But while riding a bicycle to greet voters may seem old-school, there's plenty of modern campaigning occurring simultaneously. Rogers' bike has a tablet mounted in between the handlebars, and it runs a political data-tracking software called Aristotle.
Rogers pointed to the screen, which showed a map of the Maricopa subdivision she was about to travel. There were green dots on the screen where likely Republican primary voters live. When she touched a dot, the person's name and address appeared on the screen.
As Rogers furiously pedaled her bike into the Maricopa Meadows subdivision at about 11:30 a.m., she said that many times no one is home when she arrives. But she had early luck on Tuesday.
At the first house Rogers went to, she spoke with Anettia Tomlinson, a 31-year-old nanny. Tomlinson has a history in politics; she told Rogers she previously worked for a petitioning company in California, and at one time, helped collect signatures for the campaign of former Republican Gov. Arnold Schwarzenegger.
Tomlinson was very receptive to Rogers' message and happily signed her petition to get on the ballot for the Aug. 30 primary. She also agreed to have a Rogers staffer put a political sign in her yard during the summer.
For each person Rogers talked to, she provided a list of six issues important to Republican voters and asked which was most important. Many had a tough time deciding between the Second Amendment, the economy, border security, education, national security and being pro-life.
Education was the No. 1 priority for Tomlinson, who said she's supporting Sen. Ted Cruz, R-Texas, for president and added she isn't particularly fond of billionaire businessman Donald Trump. But she said she would vote for Trump over Democrat Hillary Clinton in a general election simply because she couldn't vote for Clinton.
Rogers then took the information on Tomlinson's top issue and plugged it into her computer database for future reference. She also asks voters for a personal email address so the campaign can contact them at a later date.
As Rogers went to a few more homes in the area, it was apparent her background as a pilot in the Air Force scored her major points with some voters.
Jim West, a 52-year-old plumber and steamfitter, looked at Rogers' brochure, which shows her standing next to a plane with a bicycle in front of her. West asked if the plane was a Cessna.
"No, it's a Cherokee 180," she said.
"That's awesome," West replied. "Sure, I'll sign (your petition)."
West, a Catholic, said being pro-life was probably the top issue for him, but he also said education is critically important. He said his 16-year-old son is home-schooled.
Rogers ran into another man walking to his mailbox who was an Air Force veteran, and the two talked shop. He's a caretaker for a veteran who was badly wounded, suffered traumatic brain injury and is blind. The wounded vet's family basically kicked him to the curb years ago.
Rogers expressed her gratitude to the caretaker for his military service and for his sacrifice to the wounded vet.
"God bless you," she said.
Nathaniel Little, 32, also signed Rogers' petition and agreed to have a sign put in his yard. He works in real estate, selling and flipping homes. He said all the issues were important but leaned toward pro-life as his top issue.
As Rogers was talking to Little, his wife pulled into the driveway and got out with her kids. Rogers also got his wife to sign the petition.
Little said he hadn't made up his mind on who he would vote for in the Republican presidential primary. However, he expressed concern over the ugliness and violence that has reared its head at recent Trump rallies.
Little was impressed with Rogers' campaign technique of riding a bicycle door-to-door.
"I think it's awesome," he said. "It's helpful for the environment and is a better way of getting around … I like the face-to-face (interaction)."
Between Rogers and her campaign manager Shane Wikfors, Rogers said they went to 100 homes in Maricopa on Monday. She was hoping to get to that many or more on Tuesday, basically riding from 11 a.m. to 6 p.m.
If people aren't home or don't answer the door, Rogers leaves a campaign brochure with a handwritten — but printed for mass production — note attached to it at the doorstep. She takes a pen and writes the person's name at the top of each note.
"I stopped by on my bicycle. Sorry to miss you," the note reads. "Please vote for me to be YOUR congresswoman. Very respectfully, Lt. Col. Wendy Rogers."
As a home inspector, Rogers said she always has to be honest and accountable to homeowners and home buyers. She said that experience compels her to be honest and forthcoming with voters.
Rogers said most politicians forget to be accountable and transparent to the people once they get to Washington, D.C. She vowed that will not happen if she is elected.
Hopping back on her bike, Rogers' enthusiasm never waned as she pedaled to another house.
"Isn't this great?" she said.
---
---