Arizona Congressional Candidate and former Navy SEAL Eli Crane holds an impressive lead over all other primary competitors for Arizona's District Two Republican nomination. The Primary is in less than two weeks on August 2nd.
Crane is the America First political outsider running for Congress in this district. He is the only candidate who has gone on record to firmly say that the 2020 Election was rigged and stolen, and the Arizona Legislature must decertify.
The Gateway Pundit previously reported that Eli Crane called out the RINOs — including his opponent State Rep. Walt Blackman — for not supporting decertification of the Fraudulent 2020 Election after the Arizona audit uncovered an irredeemably compromised election.
Crane later applauded the Maricopa County Republican Committee's grassroots resolution to reject the 2020 Election and the illegitimate Joe Biden Regime based on this evidence.
In an op-ed on Warroom.org, Crane wrote, "Any Republican who refuses to support this resolution cannot call themselves a fighter for the America First agenda or the MAGA movement."
Crane has a tough stance 0n election integrity and securing Arizona's southern border. Our recent Gateway Pundit-Cygnal poll found that these are two of the top issues for Arizonans statewide. Because of his strong America First agenda, Crane leads opponents Walt Blackman and Mark DeLuzio by 7 points.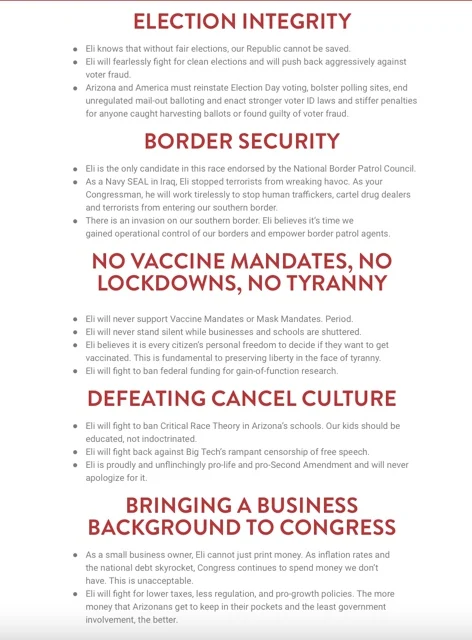 We need elected officials like Eli Crane, who will stand up against the illegitimate Biden Regime on election fraud and the wide-open southern border.
Continue Reading: https://www.thegatewaypundit.com/2022/07/az-congressional-candidate-eli-crane-endorsed-mark-finchem-wendy-rogers-candidate-supported-decertification-arizonas-fraudulent-election-leads-rinos-primary-polls/