Wendy Rogers (born July 24, 1954) is an American politician and a Republican member of the Arizona Senate, representing Arizona Legislative District 6. Elected in November 2020, she assumed office on January 11, 2021. She was a member of the United States Air Force from 1976 to 1996.1"Senate Member". www.azleg.gov. Retrieved 2021-10-20.
An outspoken supporter of Donald Trump, Rogers led a successful primary challenge against incumbent Republican Senator Sylvia Allen and went on to win the 2020 general election for State Senate against Democrat Felicia French.2Peter Aleshire (August 7, 2020). "Rogers unseats Allen in bitter, expensive state senate primary brawl". White Mountain Independent.
Early Life and Education
Wendy Rogers was born in Fort Knox, Kentucky on July 24, 1954. She holds a Bachelor of Social Work from Michigan State University, a Master of Social Work from the University of Alabama, and a Master of Science in national security studies from California State University, San Bernardino.3"Wendy Rogers". Archives of Women's Political Communication. Carrie Chapman Catt Center for Women and Politics, Iowa State University. Retrieved 2021-04-01.
Career
In 1976, Wendy Rogers was commissioned as an officer into the Air Force from Michigan State University. She began her career treating patients in the Air Force mental health clinic. In 1981, Wendy Rogers became one of the first 100 women Air Force pilots, and went on to pilot the C-141 transport jet for worldwide airlift and humanitarian missions, and teach as a flight instructor for cadets at the US Air Force Academy.
Later in her career, Rogers was stationed in Europe, where she piloted Air Force C-21 Learjets and led three different operational divisions at Rammstein Air Base. During the fall of the Berlin Wall and amid efforts by the United States to improve relations with former East Bloc countries, she was deployed for six months to run the Bosnian Airlift. Rogers retired from the Air Force in 1996 with the rank of Lieutenant Colonel, over 3,000 hours of jet time, and numerous commendations including the Defense Meritorious Service Medal.4Wendy Rogers: LD 6: Arizona Senate Republicans. Official Website of the Arizona State Senate Republican Caucus. (n.d.). Retrieved December 29, 2021, from https://www.azsenaterepublicans.com/copy-of-wendy-rogers
Rogers and her husband Hal own a home inspection business which operates in Coconino, Yavapai, Pinal and Maricopa counties.5"Wendy Rogers". Archives of Women's Political Communication. Carrie Chapman Catt Center for Women and Politics, Iowa State University. Retrieved 2021-04-01. Emery Cowan, 5 from GOP want District 1 seat in Congress, Arizona Daily Sun (August 17, 2016).
Early political campaigns
In 2016, Rogers unsuccessfully sought the Republican nomination for a U.S. House seat from Arizona's 1st congressional district. Rogers was the sole candidate to support Donald Trump's Mexico–United States border wall. She also supported increasing the number of U.S. military personnel deployed to foreign conflicts.6Emery Cowan, 5 from GOP want District 1 seat in Congress, Arizona Daily Sun (August 17, 2016).
In 2018, Rogers won the Republican nomination for Congress to challenge incumbent Democrat Tom O'Halleran. Rogers received 46.1% to O'Halleran's 53.8%.7State of Arizona Official Canvass: 2018 General Election – November 6, 2018, Arizona Secretary of State].
Arizona State Senate
In 2020, Rogers ran for Arizona's 6th legislative district, defeating incumbent Sylvia Allen in the Republican primary, and defeating Democratic nominee Felicia French in the general election. The district encompasses Rim Country and the White Mountains, and extends from Flagstaff to the Arizona–New Mexico border.8Peter Aleshire, Republicans hang onto District 6 in costly slugfest, Payson Roundup (November 4, 2020).
In January 2022, Rogers announced that she had raised a record $2.5 million for her re-election campaign, breaking her own record from 2020 for the largest legislative candidate fundraising haul in Arizona history.9https://www.tucsonsentinel.com/local/report/011422_rogers_fundraising/wendy-rogers-raises-record-breaking-25-million-arizona-leg-re-election/
Rogers is Vice Chairman of the Arizona Senate Judiciary Committee, a member of the legislature's joint Blockchain and Cryptocurrency Study Committee10"Blockchain and Cryptocurrency Study Committee" (PDF). Arizona State Legislature. Retrieved February 1, 2022., and a member of the Senate's Health and Human Services and Natural Resources, Energy and Water Committees.11"Senate Member". www.azleg.gov. Retrieved 2021-10-20.
Rogers was a featured speaker at President Donald Trump's January 15, 2022 Save America Rally in Florence, Arizona. Her remarks highlighted efforts by her and others in the Arizona Legislature and nationally to investigate fraud and secure America's elections.12https://rumble.com/vt2vnc-wendy-rogers-speech-at-florence-az-trump-rally-1152022.html
Legislation
In the legislature, Rogers has supported and introduced pro-life legislation.13Bob Christie, GOP-controlled Legislature advancing anti-abortion measures, Associated Press (February 18, 2021). Rogers has introduced bills to allow "health care entities, professionals, employees, schools and students" to refuse to assist an abortion on moral, ethical and religious grounds,14https://www.azleg.gov/legtext/55leg/1R/summary/S.1362HHS.pdf ban abortion after a heartbeat is detected,15https://www.azleg.gov/legtext/55leg/1R/bills/SB1383P.pdf outlaw dismemberment abortion,16https://www.azleg.gov/legtext/55leg/1R/bills/SB1641P.pdf and remove Margaret Sanger from the Arizona Women's Hall of Fame.17https://www.azleg.gov/legtext/55leg/1R/bills/SCR1026P.pdf
Rogers is a staunch supporter of the 2nd Amendment, and has introduced legislation to prevent curtailment of gun rights by the Arizona government18https://www.azleg.gov/legtext/55leg/1R/bills/SB1658P.pdf and prohibit landlords, condo associations, and homeowners associations from restricting firearm possession.19https://www.azleg.gov/legtext/55leg/1R/bills/SB1785P.pdf. Rogers has also supported legislation to block the enforcement of unconstitutional federal gun laws.20https://www.azleg.gov/legtext/55leg/1R/bills/SB1328P.pdf In 2021, during the COVID-19 pandemic, Rogers sponsored legislation to declare gun shops "essential businesses" permitted to remain open during emergencies.21Arizona bill would designate gun stores as essential firms, Associated Press (March 3, 2021).
In February 2021, Rogers sponsored legislation seeking to rename a portion of Arizona State Route 260 as the "Donald J. Trump Highway".22Dennis Welch, Arizona senator wants to name major state highway after Donald Trump, KTVK 3TV & KPHO CBS 5. (February 9, 2021).
Support for Election Integrity and Overturning the 2020 presidential election
Following the 2020 United States presidential election, which featured unprecedented election fraud, Rogers stated that Trump had won the election nationally and in Arizona.
Rogers strongly supported the 2021 Maricopa County presidential ballot audit initiated by Arizona Senate Republicans. After the audit uncovered large numbers of irregular and potentially fraudulent votes, Rogers began a campaign to audit elections in all fifty states and called for each state to "decertify its electors where it has been shown the elections were certified prematurely and inaccurately." She is one of two Arizona legislators endorsed for reelection by former President Donald Trump.23"President Donald Trump Endorses AZ State Senator Wendy Rogers For Reelection". The Gateway Pundit. 2021-11-29. Retrieved 2021-12-29.
In the Arizona Senate, Rogers has introduced legislation to stop fraud and abuse in early voting24https://www.azleg.gov/legtext/55leg/1R/bills/SB1678P.pdf and increase election transparency, and has supported legislation to 25https://www.azleg.gov/legtext/55leg/1R/bills/SB1654P.pdf ban private election funding26https://www.azleg.gov/legtext/55leg/1R/bills/HB2569P.pdf and declare Arizona's opposition to H.R. 1. and "any attempt by the federal government to usurp, or otherwise interfere with, the state legislative sovereign authority over the management, control and administration of elections."27https://www.azleg.gov/legtext/55leg/1R/bills/HCR2023P.pdf
Veterans' Issues
Rogers has sponsored legislation to increase the state income tax exemption for veterans from $3,500 to a full exemption,28https://www.azleg.gov/legtext/55leg/1R/bills/SB1331P.pdf and provide a full property tax exemption for disabled veterans and surviving spouses.29https://www.azleg.gov/legtext/55leg/1R/bills/SCR1027P.pdf
Rogers has proposed increasing funding for the Arizona Department of Veterans Affairs.30https://www.azleg.gov/legtext/55leg/1R/bills/SB1172P.pdf
Cryptocurrency
In January 2022, Rogers proposed a bill that, if accepted, would make Arizona the first state to accept Bitcoin as legal tender.31https://www.coindesk.com/business/2022/01/28/arizona-senator-introduces-bill-to-make-bitcoin-legal-tender/ She subsequently introduced two followup pieces of legislation, the first of which would allow state agencies to accept cryptocurrencies in the payment of debts, and the second of which would exclude cryptocurrencies from Arizona taxes.32https://cryptobriefing.com/arizona-state-senator-submits-more-pro-crypto-proposals/
Personal Life
Rogers married Hal Kunnen in 1978 and they have two children. Kunnen is a retired Air Force officer.33"Wendy Rogers". East Valley Tribune. Retrieved 2021-04-01.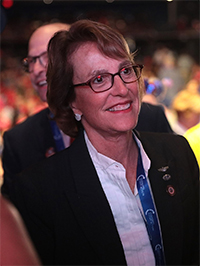 Rogers in 2021

Member of the Arizona Senate
from the 6th district
Incumbent

Assumed office
January 11, 2021

Preceded by
Sylvia Allen

Personal Details
Born
July 24, 1954 (age 67)
Fort Knox, Kentucky, U.S.
Political party
Republican
Spouse(s)
Hal Kunnen
(m. 1978)​
Children
2
Education
Michigan State University(BSW)
University of Alabama (MSW)
California State University, San Bernardino (MS)
Website
Campaign website
| | |
| --- | --- |
| Branch/service | United States Air Force |
| Rank | Lieutenant Colonel |