Meghan McCain, former co-host of "The View" and the daughter of late Senator John McCain, called Arizona Republican gubernatorial candidate Kari Lake a "bitch" in a since-deleted post to Twitter, with said post being among a flurry of seemingly unhinged attacks lodged against the rising Republican star.
McCain's bizarre online rantings occurred on the evening of July 13th, with the string of offensive writings initially being in response to an online exchange between Arizona State Senator Wendy Rogers and Lake, where Sen. Rogers suggested that Lake adopt the nickname "Maverick" while tagging McCain in the post.
"If I were [Kari Lake] I would just start using the term Maverick even though it was the name of the venue."
Lake responded to Sen. Rogers' post, acknowledging the tagging of McCain with, "I'd hate to hurt Meg's feelings. Someone called me 'MAGA QUEEN' While I love that, it probably belongs to Melania!"
For the sake of context, the obvious reason as to why Sen. Rogers tagged McCain in said Twitter post, as well as Lake mentioning her name in the initial response, is due to McCain's later father having been dubbed by the media as "Maverick" for the numerous times he broke away from the Republican party.
This reference to McCain's late father was obviously not lost on the former daytime television personality, with McCain first taking aim at Lake with, tweeting, "You hags deserve each other." Shortly thereafter, McCain then took aim at Sen. Rogers, responding to her with, "Well this is the kind of hard hitting politics everyone expects from you and Kari… Both of you dried up qanon husks stay the hell away from me."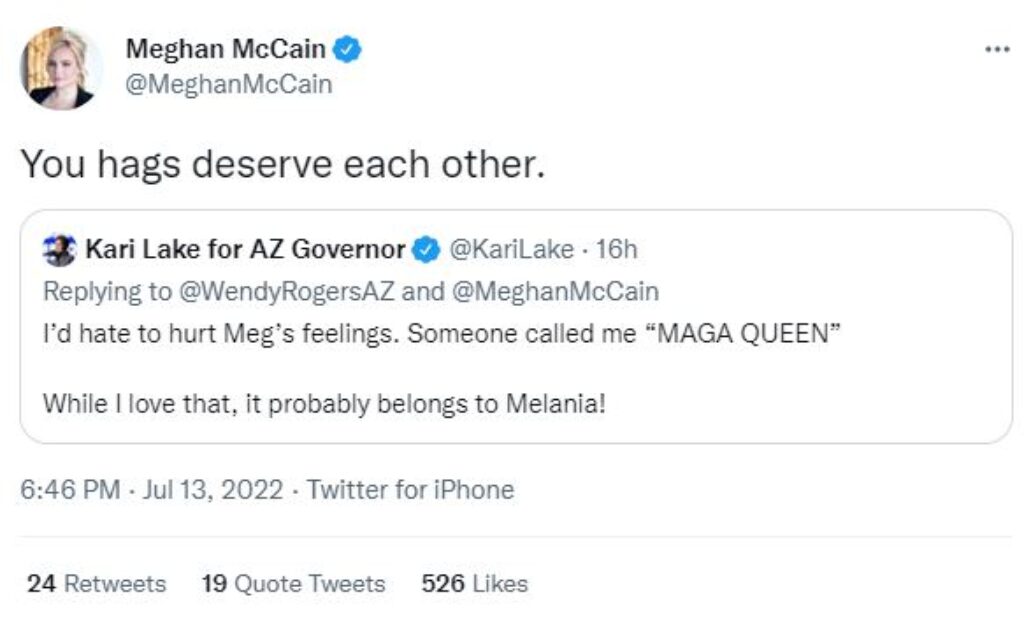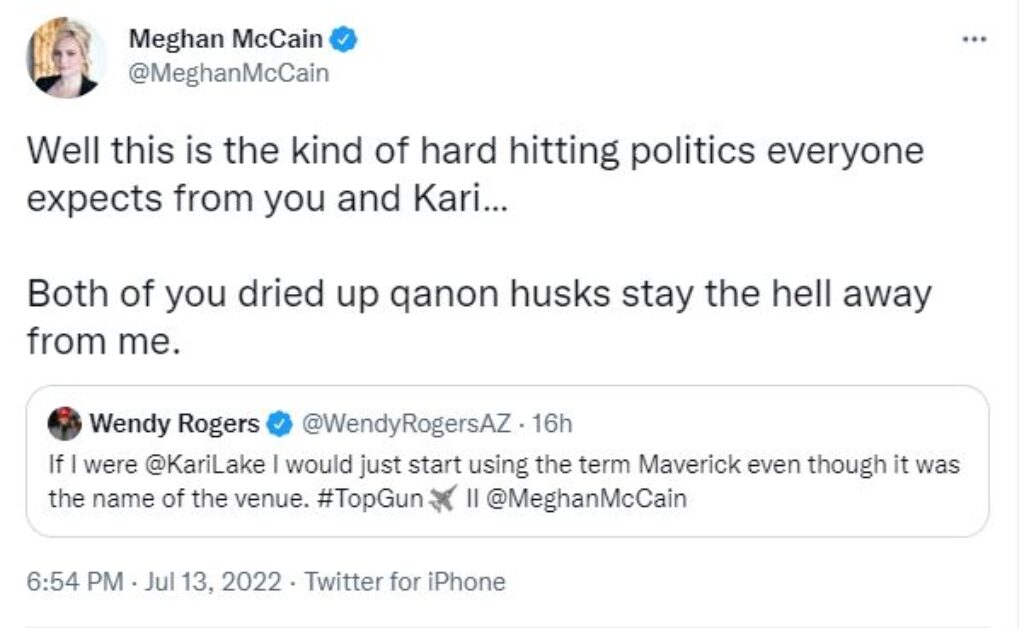 Things then ventured further into unhinged territory with McCain, with her writing in a now-deleted Twitter post, "If Kari Lake hates my dad so much, why did the b[censored] steal my dads nickname?"
The Arizona gubernatorial candidate shot back at McCain, calling her out for the tasteless remarks while pointing out the tirade comes in tandem with Democrat super PACs trying to derail her campaign for governor.
Continue reading: https://www.redvoicemedia.com/2022/07/meghan-mccain-has-twitter-meltdown-gets-wrecked-by-kari-lake-wendy-rogers/
---
(Media Right News) Arizona's MAGA 'Mavericks', Wendy Rogers and Kari Lake, Trigger Meghan McCain
"Meghan McCain was recently triggered by Arizona's real 'mavericks', State Senator Wendy Rogers and Gubernatorial candidate Kari Lake. The situation began when Liz Willis announced on Tuesday that she was 'headed to Arizona for another @KariLake rally with @RSBNetwork! Tune in tomorrow for LIVE coverage. #SaveArizona.' The rally was held at a live country dance bar, the Maverick, in Tucson, Arizona. In a now apparently deleted quote tweet, McCain asked, 'If Kari Lake hates my dad so much, why did the b*tch steal my dad's nickname?'"
Read article: https://mediarightnews.com/arizonas-maga-mavericks-wendy-rogers-and-kari-lake-trigger-meghan-mccain/