Former President and possible future President Donald Trump is still highlighting election integrity as what matters most to him in many upcoming races. Although many America First Republicans haven't been thrilled with all of Donald Trump's recent endorsements, they aren't counting Trump out altogether.
The endorsement game is a tricky one, and Donald Trump has had a lot of different people telling him what to do and a lot of homework to do in races around the country. Trump's recent endorsement of election integrity stalwart PA State Senator Doug Mastriano (R) for Governor is one of the endorsements being taken well by the America First crowd.
Just The News reported on the details of Trump's endorsement here. Meanwhile, Donald Trump "Truthed" that report to his new platform "TRUTH Social". See the screenshot below: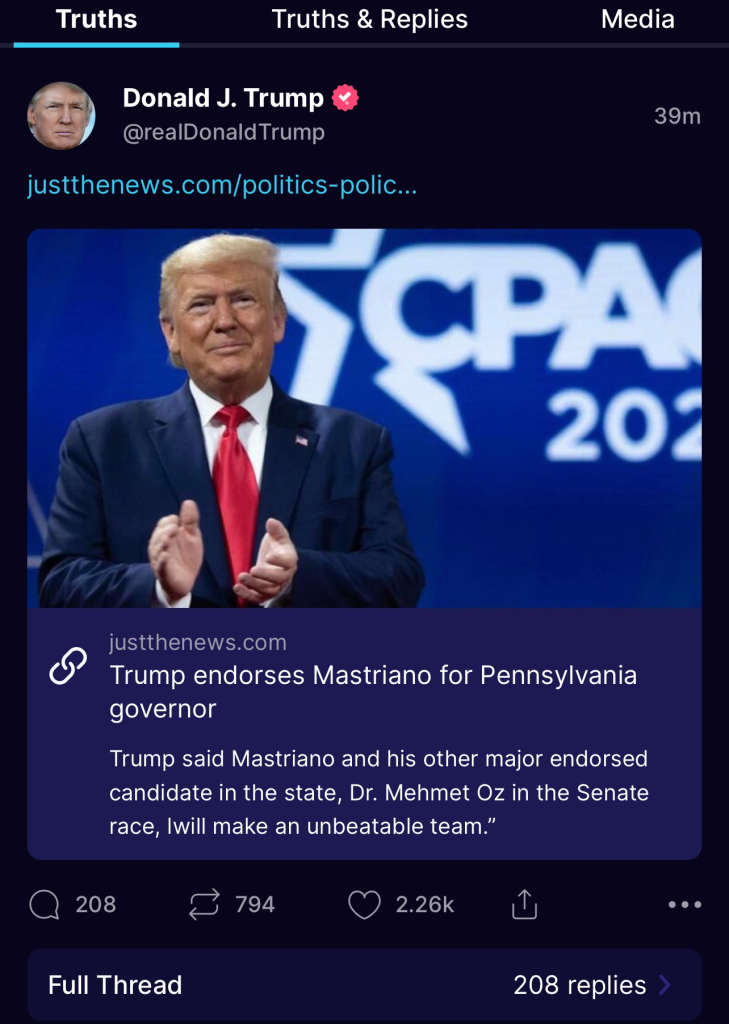 Another Trump-endorsed candidate, State Senator Wendy Rogers (R-AZ) posted her support for Trump's latest move on Telegram:
"President Trump endorses my good friend and patriot Doug Mastriano!!!! Let's go!!!!"
Pennsylvania has been a swing state, trending blue over the years. But with the recent win by now Virginia Governor Glenn Youngkin (R) sweeping the also blue trending state by storm, Republicans think they can take advantage of the political environment to replicate that success with Mastriano.
Continue Reading: https://mediarightnews.com/wendy-rogers-applauds-donald-trumps-endorsement-of-doug-mastriano-in-pa-governor-race/